Online reputation management software is the best way for businesses to engage with customers and gain unique CX insights.



Social media has transformed the way in which our society communicates with friends and consumes information over the course of the last 15 years.
Unfortunately for some, when they first joined social media they did not consider the repercussions of their actions, through posts, comments, and pictures. In several cases, these posts on social media affected how peers viewed them and eventually how potential employers viewed them.
It doesn't take much to damage a person's online reputation and the same is true for businesses today. Fortunately for businesses, being proactive by managing online reputation is the best way to bring in new customers and put out metaphorical fires in case of an emergency.
At XAmplifier, we work with companies to build and maintain their online reputation. Here is how we view online reputation management and why it's essential for businesses moving forward.


What is Online Reputation Management?
Online reputation management (ORM) is a practice aimed to ensure businesses are perceived well online from the consumer's viewpoint on popular review sites, social media platforms, and search engines.
While an individual social media user can simply delete damaging posts and pictures, businesses do not have the same luxury. When consumers post a review on platforms such as Google My Business, Yelp, or Facebook, businesses are stuck with the comment regardless of whether it's positive or negative.


This is why the 'Management' aspect of online reputation management is so important for businesses. While they don't have the option to delete negative publicity, businesses can have more control over their reputation through the software.
In short, ORM software automates the review generation process by sending emails to customers after their visit and publishing reviews to all major review platforms. It also allows the business to interact with reviews, directly through the software.
With the review generation growth and its distribution to the most influential places online, businesses experience improvements in star-ratings across the board, better online reviews about their company and unique insights to help transform the customer experience.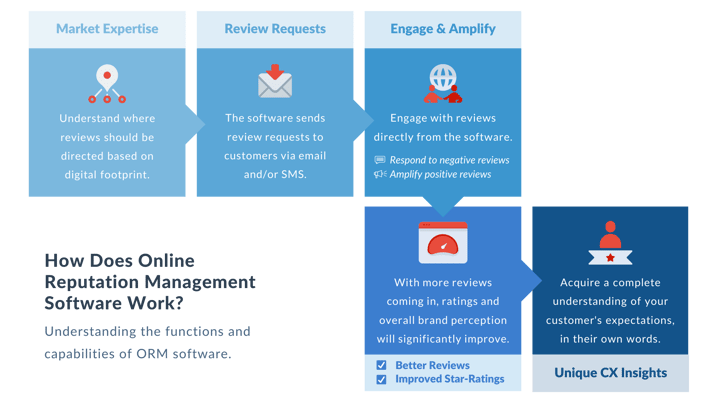 Why Is Online Reputation Important?
Word-of-mouth marketing has always been a major source of revenue for businesses that provide excellent products and services. While that trend is no different today, it's evolved along with our society as we now rely on the word of anonymous consumers who review businesses online.
Considering that nearly 75% of consumers won't take action until they've read online reviews about a product or service, it's quite clear that these reviews provide value and are important for businesses to constantly track.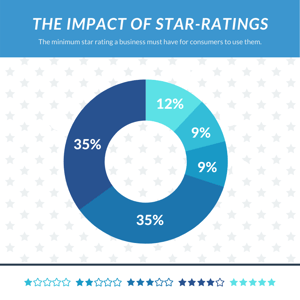 Along with overcoming the initial obstacle of having online reviews for your business, they are a leading source of building trust among consumers. 85% of people trust reviews as much as personal recommendations from friends, family, and peers. Additionally, over half of consumers will visit a business's website after reading a positive review.
The trust built from online reviews also affects consumer spending habits as people will spend 31% more on average if a business has positive reviews. Lastly, when businesses claim their free listings on at least four review sites, they earn 36% more revenue than average.
Managing the online listings for your business is essential in reaping the rewards of review generation and overall customer satisfaction. The most impactful directories to have your business listed on include Google My Business, Facebook, and Yelp.
This, of course, extends to other providers based on your industry. For example, healthcare providers will want to have their practice - as well as their individual physician listing - on websites such as Healthgrades and WebMd.
Solidifying the foundation of online reputation is a must for any business. Without these core elements in place on the internet, you run the risk of consumers taking their business to the competition. When businesses don't have their listings buttoned-up, it severely affects their rankings on search engines, thus making it difficult for potential customers to even consider your services.
To be sure, online reputation management is a major commitment for any business, but one that is well worth the time, effort, and financial requirements.