When someone gives your company a bad online review, your first instinct might be to ignore it. Many people believe that when they hide negative feedback, they're protecting their company's digital reputation.
Actually, the opposite is true. Many consumers doubt the authenticity of companies that have only good online reviews, so a bad review can actually improve your digital reputation.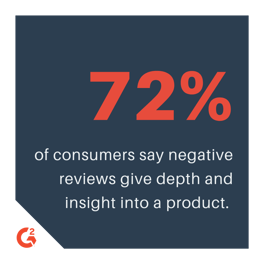 A large number of positive reviews, combined with a small number of negative reviews, looks best to potential customers. This balance is, after all, a truthful representation of most company's customer satisfaction levels. To most people, a company with too many positive reviews seems too good to be true. For evidence, just take a look at these findings:
People seek out and read negative reviews before making an online purchase. According to G2 Crowd and Heinz Marketing research, 72% of consumers say negative reviews give depth and insight into a product. These people look at the number of negative reviews and the most common customer complaints.
Consumers doubt the authenticity of reviews and ratings that are consistently high. This negatively affects sales. According to research by Northwestern University, consumers are less likely to purchase a product online if it has an average rating of more than 4.5 stars since these products seem too good to be true.
Negative reviews can contribute to your digital reputation by boosting authenticity and building trust with consumers. Instead of deleting a negative review, then, respond to it promptly and politely. Below you will find the framework for a response that addresses three key areas:

Since most people seek out negative reviews before they make a purchase, these reviews are an opportunity to demonstrate excellent customer service to potential customers. No
Online reviews – both positive and negative – are crucial for building trust with customers and, for boosting revenue. Of course, to harness the power of online reviews, companies need to dedicate time and energy to managing their digital reputation.
Enter XAmplifier. Our team is made up of digital reputation experts who know how to get the most out of both your positive and your negative reviews. matter how unfair or unfounded the complaint is, always respond to bad reviews with professionalism.
If people read a bad review with a helpful response from the company, many people remember the response, rather than the review.
Contact us today to take charge of your company's digital reputation.